"Hey Glen. My name is Suumit and I wanted to share a case study of how I launched an Amazon affiliate site from scratch and hit $28,000/m in just eight months."
I didn't know who Suumit was or how he got my Skype ID, but if you're going to message me out of the blue, that's the kind of introduction that will get my attention.
Three days later he shared the website in question and some of the strategies behind growing it so quickly.
I didn't need to look at his income reports to believe the numbers (though I would later check them). A quick glance at Ahrefs showed he was dominating the "best " keyphrases for his particular niche and still is months later.
So why did he want to reveal his secrets to me? And why did he also want to share them with Detailed readers?
There were two reasons, he tells me.
The first was to use my audience as a platform for personal goals. "I'm a big believer that knowledge which makes people's lives better should be freely available. So, I hope this case study will help people out there to understand how SEO is evolving" he typed.
The second goal, he stated, was to connect with me personally.
I admired his altruism but can't deny I was skeptical. Especially when I asked if he wanted to promote any other resources in our interview together and he politely declined.
Maybe he plans to sell the site later. Maybe he wants a bigger audience in the world of SEO. Maybe he believed a backlink from Detailed might help.
I can't know for certain, but there's one thing I'm sure about: This guy is smart.
After talking with him at length on Skype, I got a better idea of why he wants to talk about a site that makes more than $10,000 on a bad month, with little upkeep required.
While taking me around his various web projects, I got a sense that he couldn't open up each new tab quickly enough. This twenty-something is unquestionably ahead of the pack when it comes to SEO experiments you haven't even considered; automating as much of the successful ones as possible.
Primarily based in Mumbai, India, he told me how businesses in his local area were all following similar strategies and taking advantage of Google "loopholes" in a number of different niches.
Whatever happens after this interview goes live, he's not hurting for exciting projects to work on.
That said, I did decline to share it.
An Upfront Admission You (Probably) Won't Like
The initial version of this interview included Suumit's site, niche, rankings and a deep-dive into some of the backlinks that are helping him rank.
I knew it would get the SEO world talking — perhaps more so than when I shared the story of 10 Beasts.
Yet, three weeks after he first reached out, I sent him an email with the subject line "A genuine concern".
My fear was that while he was revealing information that was inspiring and insightful to those involved in SEO (and especially affiliate SEO), he was perhaps also providing enough ammo for trigger-happy Google employees to issue him with a manual penalty.
After all, a few months after I shared the story of 10 Beasts which went niche-viral, that's exactly what they received.
(The owner had been talking about his site and tactics in the open for months on his personal site – and the penalty was revoked just 48 hours later – but I accept I likely had a part in bringing the site unwanted attention).
In the email I explained that we shouldn't reveal the site because I don't want to be responsible for any issues that may arise.
He genuinely didn't seem to care, and still wanted to go ahead, but I would later repeat my recommendation to which he finally relented.
To be clear, I have no problem if Suumit wants to reveal the site elsewhere. I'm sure many bloggers would jump at the chance and the end result would undoubtedly be more interesting than my own version.
With that said, this is a case study without a website attached.
If you're looking for a URL, you might want to leave this article right now. It isn't here.
Suumit fully expects some people to find the site in question but at least it will be far fewer than if I were to link to it outright. If you do find it, please keep it to yourself.
He accepts that sharing his story may result in negative consequences but there are enough insights here that help him serve his mission of people looking at SEO in a different light (depending on their current perspective, of course).
Only after I knew he worked on a number of projects far more successful than this one was I willing to share his redacted interview. His background is pretty incredible for someone so young and I have a feeling he's just getting started…
The Backlinks That Rank (Whitehats, Look Away Now)
One of the biggest criticisms I faced when I covered the story of 10 Beasts was that I didn't dive into their link profile in more detail.
The owner, Luqman, had been so open about his tactics on his own site that I didn't feel the need to repeat them.
To me the real story was that a young site with so few pages was making so much money. The reaction to that article showed I was far from alone in thinking that.
There isn't a world of difference between Suumit's site and Luqman's 10 Beasts.
Both primarily make money from recommending products with an Amazon affiliate link.
Both have very basic designs with less than perfect content, and both have a domain age that makes you wonder why your own projects didn't succeed so quickly.
Because I'm not revealing Suumit's site I feel like we can be more open about his link building strategy, because it's possibly a huge part of why this site – and similar sites I've seen – are ranking.
So what is his strategy that might get him in trouble? Redirecting expired domains that already have links.
Not so much building sites on them, but just doing straight redirects to the site he wishes to rank.
Thanks to this, Suumit technically has great links from sites like the LA Times, The Verge and Gizmodo.


"Over the years I have realized that the value of links which are available for free or can be acquired publicly is dropping day by day."
He continued, "Found a site with great authority? Chances are it will already no-follow outbound links or will in few months once the SEO community finds about it. Any new "method" which becomes public gets abused a lot in this industry. Scholarship link building is a good example of that."
When I asked if he was involved in other strategies he said that his biggest problem with paid links or guest posts is that any of his competitors could replicate the same links.
With his own network of domains and sites he didn't have that problem, and could (mostly) stay under the radar.
Though many people are afraid to utilise these tactics incase they get caught, they can work well, and Suumit's site is a prime example of that.
After this interview we'll get thoughts on the site from three well-known names in SEO so you don't just have to trust what I think of it.
Let's dive in…
First of all, a lot of people are going to ask…why are you willing to do this interview? What's the benefit for you?
The reason I wanted to do this interview is because SEO is changing dramatically and getting immensely competitive.
Search engines like Google and Bing are investing a crazy amount of money and resources to make their search results better and there are very few good places on the internet where you learn the latest changes made in search algorithms.
I've been active on dozens of platforms to stay up to date with the latest SEO hacks and surprisingly everyone keeps talking about the same old things again and again.
For instance, most people haven't moved on from talking about H1 tag optimization or they're still scraping domains and setting up PBN's in the traditional way.
I'm a big believer that knowledge which makes people's lives better should be freely available. So, I hope this real-case study will help people out there to understand how SEO is evolving and how they can change their traditional SEO approach and do things differently to achieve better results.
Did you start the website yourself?
Yes! I started this website by myself.
How about the domain? Was that available from a registrar or did you get it through another process?
It was an expired domain that I found within a matter of minutes when I decided to set up a blog related to health. I just applied a few filters – such as only looking for domains which contain the word "health" – and they must not have any spammy links pointing to them.
Although this is the traditional way, I've recently started using a new approach for finding brandable domain names that have a good backlink profile.
I created a central database of approximately 1.7 million domains. These domains all have live backlinks from sites like Forbes, The Huffington Post and any authority site you can think of.
One can easily get a list like this using Ahrefs.
All you have to do is enter the URL of an authoritative website and download all of their outbound linking domains.
You can then apply further criteria such as only pulling back domains with a DR (Domain Rating) of 15-40, because it's very rare that a domain with a higher DR will expire.
I've then built some technology which allows me to the check the domain name availability of around 7,000 domains per minute and I'm running a cron-job which keeps checking the entire database on a daily basis.
As soon as any domain is available, I get an email notification.

I know a lot of people are doing the same thing, but they're doing it manually.
In my case, I don't need to touch anything for months and I keep getting good domains arriving directly to my inbox.
Checking the availability status of thousands of domains per minute is a big deal since there are no bulk domain name checker API's available. The cost of running this infrastructure is less than $50/m.
Note from Glen: We'll dive into Suumit's link building strategy more later on. For now, I wanted to learn more about the project.
The site is ranking very well for a lot of high-ticket "best product" terms in the health space. What was your inspiration to get involved in this particular niche?
I've been working with plenty of Series A+ funded startups and few big corporates and helping them to grow their userbase and revenue with SEO.
As you know, SEO changes at the speed of light and I don't want to take the risk of trying new methodologies on clients websites directly before I test them on my own projects so I usually have multiple test projects on the side.
Coming back to your question of "Why this niche?", I seriously don't know much about health — I'm 27 and weigh 54KGs (119 lbs).
The reason I chose this niche is because one of my close friends recently sold his blog for half a million dollars targeting the exact same keywords. I knew all of the revenue and competitor information for the space so it was "proven" and that's why I went ahead.
My main objective behind these side-projects is simply this: Try new things and make money at the same time.
Do you ever spend time updating the content? Are you worried about your pages not being as good as they could be?
Note: In private I had picked out some articles and their typos and grammatical errors to go with this question. For this interview I have rewritten some of Suumit's answers (with his permission) as, understandably, English is not his first language.
"Content" is one of those words I hate the most. Not being able to generate quality content is my biggest failure to date.
Being from India, it's rare to find a local writer who can write articles like a native English speaker. I tried working with freelancers from the United States but my experience wasn't that great.
I haven't updated the content on money-making articles for months.
All I'm doing is pushing 3-4 new articles per month of 800-900 words each and trying to make sure I won't fall under the "thin content" website-type.
Just to clarify, the existing articles on the website are written by around five freelancers from different places like Upwork and local Indian resources.
Of course I'm worried about the pages not being so good in terms of content but I'm not sure I'll spend more time fixing them. Instead, I'll build tech products and grow the sites like crazy.
For instance, three years back I launched an app called Grappr which is a community of Indian users where they get paid for doing microtasks such as app downloads or app reviews.
Within a year that app grew to 1M+ active users with 4.5 Avg rating from over twenty thousand users.
I view myself as a "growth hacker" more than an SEO.
I assume there are some pages making more money than others? Which rankings are the most valuable for you?
On Amazon Associate-style websites there are mainly three types of pages:
Product Category Search – For example, "Best Standing Desk to Buy in 2018 – A Complete Buying Guide"
Product Brand / Model Search – For example, "Varidesk ProDesk 60 Electric Reviews"
Generic Articles Related to Parent Topic – For example, "How to Reduce Repetitive Strain Injury With a Standing Desk."
Usually the competition for product and category related terms is pretty high in the health niche but they can give you crazy returns if you rank in the top positions.
Product brand / model related keywords can be ranked easily but their revenue potential is lower.
For me, only the first and second type of pages are making money, though the third type of pages can attract a lot of legitimate backlinks.
With Amazon lowering commissions and thus your earnings, have you tried to work with companies directly to increase your revenue?
Amazon lowering commissions is indeed a real pain and a constant threat to almost everyone who is in this game.
I tried working with manufacturers directly and while the commission structures was better, the revenue was much lower than with Amazon.


Most phsyical health product creators don't have affiliate sales tracking in place so it becomes difficult to work with them. I also believe people trust Amazon more, especially when the transaction size is pretty significant.
On top of that, Amazon gives me a commission for anything & everything the user purchases – so it's a win-win situation for me.
As per last years report, only 30% of users I sent to Amazon purchased the products I recommended; the rest purchased something else. Yet I still got paid for all of those transactions.
Add in real transparency, trusted tracking, on-time payment, and the considerable brand Amazon have built, I believe it makes sense to stick with them for now.
You recently redesigned the site and I have to say it looks much better. What was your inspiration for that? To increase conversions / look better for a manual review / something else?
I've recently started working around conversion optimization and unlike content, I actually enjoy the design part.
According to Full Story – a tool which gives a real-time data of how users are interacting with the website – my users' experience on a mobile device wasn't that great.
The New Year is approaching and according to last years data, revenue could go as high as 3X within next 60 days.
Improving health is the most common New Years resolution for people so I redesigned the website for a better user experience and conversion rate.
Is this your most successful affiliate site or do you have others in the wings as well?
The definition of success is different for every individual and talking regarding monetary value this website is adding, this is a successful project. I own a bunch of other websites and apps too (although I have a lot of failed projects as well).
Out of all of these properties, a few are affiliate sites and a few are tech products.
Apart from these, I've been working with tech startups who are operating at a scale and looking to expand further online.
What would you say to those going through this model already and not seeing success, or those thinking of starting?
Talking specifically about Amazon Associate sites, most of the sites I see are just creating list articles and repeatedly explaining the same product features. They aren't adding any valuable information.
For example, actual video reviews of a product isn't present on more than 95% of them.
Since the last few Google updates I've realized that ranking Amazon niche sites (or any kind of website in general) is becoming more time-consuming. With sites that aren't successful I can usually see it's because their content isn't up to par or they need a better link profile.
People who are just thinking of starting an Amazon affiliate site (or any sort of website) should spend more time on creating valuable content and then build links in a smart way.
Never rely on free guest posts or directory submissions or blog comments. Those are old techniques and don't work as well anymore.
If you really want to dominate search then try building what I referred to in the interview as "exclusive" links. Links that competitors can't pick up as easily because you're building them through your own properties.
/Fin
Suumit had not asked for any of his projects to be linked to but he did mention a rank tracker he's working on, Rankz, that he's hoping to grow. After all he's shared here, it's the least I can support him with so I'll personally be trying it out in the next few weeks.
Thanks for your time, Suumit!
Three SEO Friends Share Their Thoughts
As I mentioned in the introduction, it was my idea to not share Suumit's site with the world.
I know a possibly penalty wouldn't be too detrimental to him but it's not something I want to increase the likelihood of.
With that said, I did ask Suumit if we could ask some outside experts for their views on the site so people didn't just have to trust us.
In the order I received a response, here are some other takes.
First up is Nick Eubanks from Traffic Think Tank.
The site is a pretty amazing anomaly if you ask me. The design is as basic as it gets, the content is thin – has no tone or legitimacy, and the internal links are partial match at best.

Yet the site has made strategic use of some old school link building techniques that definitely still work and managed to rack up over 2,300 RD's in Ahrefs and rank for over 28k keywords, with nearly 1,800 ranking on the first page of Google. Most of these terms are commercial intent terms with several thousand searches per month each.

Crazier still is the domain was registered just over 2 years ago in February of 2016 and is already scoring in the upper echelon of all sites for Domain Rating. I'm a bit uneasy with how well this site is doing, all things considered.
Thanks, Nick!
Next up we have Tommy Griffith, a former SEO for Airbnb from ClickMinded.
It looks like there are some very strong rankings here for a number of valuable affiliate terms. You can see the clear moment in time where there was an investment in PBNs – and for now, it looks like it's working.

Most of the links are on pages with a very small number of external links, and it looks like there is good contextual relevancy on about half the domains. The other half are from sites that don't look like they're related to the topic – but again, yes, this looks like it's working.
Finally, Britney Muller of Moz fame kindly contributed her time.
They've actually done a great job of optimizing page titles and on-page content. The use of enticing titles like 'Best of' and 'READ FIRST before buying this' helps increase CTRs. The blog posts are also really clean and without sidebars. The Titles, URLs, and headings are well optimized for Featured Snippets (to which they have several high volume FSs).

Their straightforward IA is commendable; this isn't a cluttered website with a dozen navigation items. It's a basic free theme with the only dropdown (and footer) linking to their primary money pages. This helps to optimize their crawl budget and funnel any homepage traffic to their top affiliate posts. The homepage is clean and simply showcases the most recent blog posts.

The one thing that stood out was the appearance of seeded community blog comments with frequently asked questions about the page topic. I would never recommend creating fake accounts to seed questions and manufacture engagement, just include those FAQs in their own section on the page. However, it would be interesting to test this to see if Google deems comment activity/content more or less valuable.

Moz found the most backlinks for this site (just sayin!) and the profile is fascinating. It becomes immediately clear that a savvy link builder helped acquire a few things to increase the link authority being passed to this site.
I still don't know how people are going to react to an affiliate case study without an actual site attached but I like to think this feedback gives you a much better idea of what's working for them.
If I can add my own commentary, I have to admit that the site looked pretty terrible before the recent redesign. With the spelling and grammatical mistakes throughout the content – they are not small or random occurrences – I would be pretty disappointed to land on it via a search.
Especially when the products Suumit is ranking for are not cheap.
He has made some clear efforts to improve things here and he posts quite a lot of content that isn't written just to make money so it's definitely becoming a better resource.
That said, I don't think any of these were needed to please Google, who have been rewarding the site regardless.
Redirecting Expired Domains: The Main Link Building Tactic In Question
As with most sites, Suumit's affiliate site has links from a number of different sources.
The ones with the most authority undoubtedly come from purchasing expired domains that already have links and redirecting them.
The domain he's ranking was also an expired domain which had previously picked up links.
Detailed Pro hopefully shows how focused on link building I am so while I have redirected expired domains to other sites before I've never really pushed the effectiveness of it.
I would usually build a site on the domain and then link out from it (like a PBN).
If you're been in SEO for a while then you'll know that both of these strategies are far from new.
If you were to ask about its effectiveness on Blackhat World, you'll probably get a response that suggests looking at all of the other threads on the topic, like so:


If you go to a course sharing site like Udemy, you'll find it's very popular over there as well: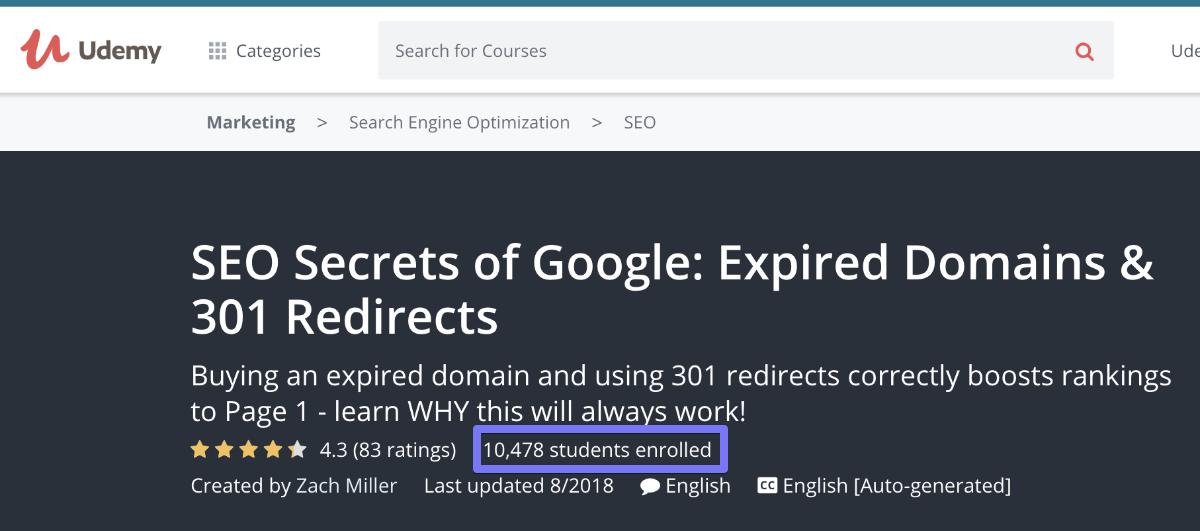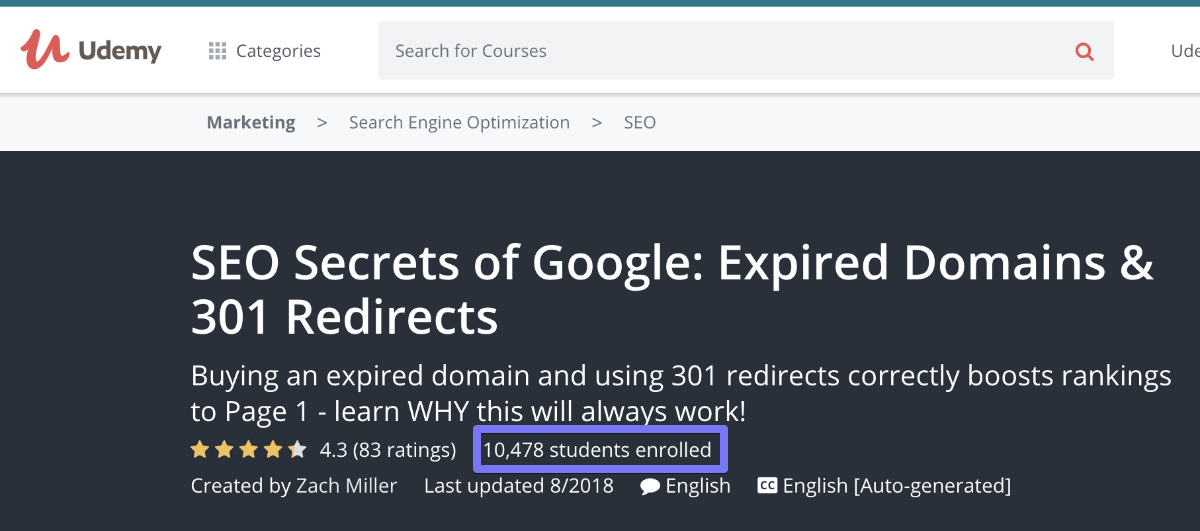 In other words, it has been around for a while, and many people know about it.
Suumit, as far as I know, is one of the first people who has basically said, "This is what I do, and here's the kind of results I'm getting."
However, he's certainly not alone.
According to my Ahrefs usage stats I've checked the backlink profile of thousands of sites in the past year alone and I'm constantly finding high-trafficked sites that employ this tactic.
A recent site relying on it heavily isn't doing too badly:


This site has some incredible links thanks to other domains that now redirect to them.
To stick with the theme of the post so you don't just have to believe me alone, I asked Ahrefs CMO Tim Soulo to verify that graph and their links.
He has.
For those who know about the tactic already I really hope you got something out of this interview.
For those who are completely new to the concept, you might have a few questions in mind, so I thought I would answer them FAQ-style.
"So all I have to do is find dropped domains and redirect them?"
That is what appears to be working incredibly well for a lot of sites, yes.
But in that same vein, you will find many people who say they tried to do the same thing and saw little to no results from their efforts.
Depending on your source of domain names and the niche you're in, this can be an expensive exercise.
As with anything when it comes to search, there are no guarantees, but I should add the warning that I wouldn't 'test' this on a site that you care about.
Set-up a new brand and don't risk your own or client websites in the process.
"Surely Google can just block this tactic from working?"
Perhaps, but there are a lot of genuine use cases for it.
Sometimes sites change names and want to redirect all of their 'juice' to a new brand. That can include letting domains expire before they are picked up and used.
Sometimes companies acquire other businesses and merge multiple sites into one.
Not every example of one domain redirecting to another is someone trying to game search results in their favour.
"OK, then maybe a red flag if a lot of domains redirect somewhere else?"
It's certainly possible Google have something like this in play but if it caused an obvious and immediate penalty it would be a bit too easy to hurt your competitors.
"What if I build a site on an expired domain that I try to rank?"
I've heard of a lot of success stories relating to this so it can definitely work.
People buy domains that have dropped all of the time and build legitimate resources on them. I wasn't the first person to own Detailed.com – so it isn't exactly "shady" either.
Suumit's site is built on an expired domain that already had links to it. There's no way to say for certain that they helped, but logic would suggest they likely did.
Especially when he was dominating search results within a few months.
"Didn't Google say this shouldn't work? Won't they?
If recent trends in SEO are anything to go by, we'll see a Google denouncement of this entire concept shortly ;).
It is entirely possible that the expired domains aren't helping the site in any way, even though it's a large part of their strategy (notice how Tommy mentioned PBNs rather than redirected domains).
If you are going to try it yourself, you could invest a lot of time and effort with nothing to show for it.
I've seen the subdomain vs sub-folder debate where people are convinced subfolders are better and show the rankings improvement but neglect to state they changed their URL structure, internal links and so on.
Back in 2003, 'GoogleGuy' said,
you can get that domain into Google; you just won't get credit for any pre-existing links.
While 15 years is a long time in SEO, this should mean that the tactic doesn't work at all.
A few years after that, Google's Matt Cutts said,
There are some domain transfers ( e.g. genuine purchases of companies) where it can make perfect sense for links to transfer. But at the same time it wouldn't make sense to transfer the links from an expired or effectively expired domain, for example. Google (and probably all search engines) tries to handle links appropriately for domain transfers.
On a webmaster hangout in December of 2016, Google's John Mueller said,
Sometimes we recognise that a new site is completely unrelated to an old site. So for example if you go out and buy an old domain name, it might have been a church website for 10 years. If we recognise your new website is really not the same as it was, then we need to understand that difference and say that, these links, they apply to the old website but they don't apply to the new one.
That certainly doesn't seem to be as definitive as the statement from 2003 and seems to tie more into the relevance of the new site.
Either way Google will win any argument on this topic because they can always say (and often do) some variation of "We just don't count those links."
I can't find more recent updates than that but I will update this article if I find them. Danny Sullivan had a nice guide to this back in 2009.
"Where can I find expired domains?
Just to reiterate, keep in mind this tactic goes against Google's guidelines depending on how you implement it so be very cautious about using it on sites you care about.
If you've decided you want to give it a try, you have a few options available.
First of all, you could follow Suumit's method and find domains with the links you want first, and then build a tool to constantly monitor their availability.
I recently built just that as an experiment and tried it out on around 30,000 domains:

Im my first crawl I found two domains out of 30,000 that were available and worth picking up.
So even if a lot of people are aware of this model, there are great domains up for grabs.
To get the 30,000 domains took less than 30 minutes – including filtering – but you will need an Ahrefs, Moz, SEMRush or similar account.
Creating the tool in the first place is more costly, but shouldn't set you back more than $1,000.
If you have a large budget it's probably better to go via the Ahrefs API – or similar platform API's – because the constant downloading of CSV's and filtering the results is a bit laborious (especially when you get into tracking millions of domains).
Another option is to go to auction sites like GoDaddy Auctions and watch what is available.
You could of course simply Google "purchase expired domains" or "purchased dropped domains" and find a lot of resources that way.
I have personally implemented another system which cost around $750 to set-up and $500/m ongoing and is finding at least two register-worthy domains per day. If there is enough interest in this article, I'll happily share that strategy in a future blog post.
(I don't redirect these domains, but they are useful for other purposes. I'll purchase a new batch this week solely for the purpose of a redirect experiment as well).
If I've missed anything, please do let me know in the comments. Suumit might join in as well if you have any questions for him.
Thank you for reading!